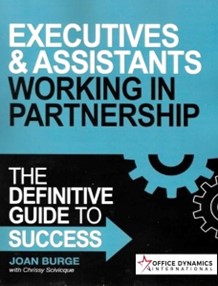 OBJECTIVES 

Clarify the administrative role 

 

Gain perspective on the executive and assistant partnership 

 

Utilize the assistant as the "center of influence" 

 

Mirror the behaviors of talented executive/assistant partnerships 

 

Communicate effectively in a tech-savvy world 

 

Make time for "human moments" 

 

Understand each other's communication style preferences and their impact on team productivity 

 

Build exceptional levels of trust 

 

Delegation of tasks and projects from executive to assistant 

 

Improve daily processes for operational excellence 

 

Create alignment with goals, special projects and daily activities 

 

Open the lines of communication between the executive and the assistant 

 

CONTENTS   

Part 1: People:  

Understanding the Stages of Growth 

Communication: The Foundation of Trust 

Being in Agreement 

Resolving Partnership Problems 

Part 2: Processes: 

Regularly Scheduled Meetings 

Calendar Management & Meeting Preparation 

E-Mail Management 

Prioritization 

Project Management 

Travel 

Telephone Calls 

Follow-up Systems 

Special Message to Executives 

Special Message to Assistant 

********************************************

Days & Hours:   3 days, 2 hrs./day. 

Attendees:        Min in 6, Max 12 per course 

Material :           Available in PDF Format

Upon registration, an email will be sent to registered participant for payment options. 

Administrative Excellence LLC is an Authorized User by Office Dynamics International www.officedynamics.com to train this program.